First Aid at Work Re-qualifier Course – 2 day
First Aid at Work Refresher course for existing holders of First Aid at Work certificates who wish to renew their certificates.
First Aid at Work Re-qualification course takes place over two days and is suitable for staff training on your own premises. We also run courses open to individuals at our training rooms. Candidates must have a valid First Aid at Work certificate on the first day of the course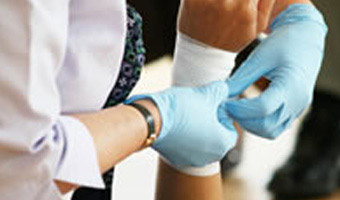 Training Includes
How to act in the event of an emergency
CPR ( cardio-pulmonary resuscitation )
Unconscious casualty
Wounds, bleeding and shock
Burns & scalds
Injuries to bones, muscles and joints
Eye injuries, poisoning
Dealing with a casualty overcome by gas and fumes
Dealing with major and minor illnesses
Students will also gain the ability to maintain simple factual records and provide written information to a doctor or hospital if required and they will also recognise the importance of:
Personal hygiene in first aid procedures
The legal framework of first aid provision at work
The use of first aid equipment provided in the workplace
The role of first aiders in emergency procedures
Pricing
Included within the price of training:
Professional Instruction
All course materials
First Aid at Work Manual
Ofqual First aid at Work Certificate, Valid 3 years.

Contact us for more dates.
Venues: Andover, Basingstoke, Eastleigh, Fareham, Guildford, Farnborough, Petersfield, Portsmouth, Southampton, Winchester, Hampshire.
Individual Rate - Contact us for price - Find it cheaper elsewhere and we will match that price - See our Special Offers!
Group Rates: Hampshire Venue All prices Include VAT
| GROUP SIZE | GROUP RATES |
| --- | --- |
| 3 Students | £537     (£179 per person)  |
| 4 Students | £588     (£147 per person) |
| 6 Students | £690     (£115 per person) |
| 8 Students | £784     (£98 per person) |
| 10 Students | £840     (£84 per person) |
| 12 Students | £912     (£76 per person) |