First Aid Training for Dentists
Medical emergencies & resuscitation training for clinical practice and dental practitioners, dental care professionals and staff in general dental practice.
The Resuscitation Council (UK) 2006 recommends that: "Dental care professionals should undergo regular training in the management of medical emergencies to a level appropriate to their clinical responsibilities." We offer specialist training for dental teams at your premises and at a time to suit you.
The course supports all staff working in a general dental practice providing CPD refreshing training in basic life saving skills. Our training covers Basic/Advanced Life Support (CPR) and also recognition and immediate care for medical emergencies common in the dental practice. The course content can be tailored to suit your particular requirements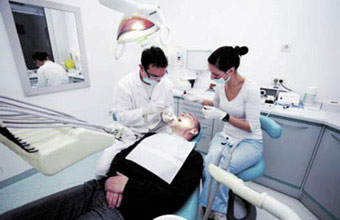 Training Includes
The ABCDE approach.
Basic Life Support – adult and child.
Airway management, BVM - Suction- OP Airways.
Oxygen therapy.
Asthma, Anaphylaxis, Cardiac emergencies.
Epileptic seizures, Hypoglycaemia.
Syncope, Choking and aspiration.
Pricing
Included within the price of training:
Professional Instruction
Fulfils the CPD criteria of the UK General Dental Council .
This 4 hour course is certificated for 3 years. Annual refresher training is recommended.
Contact us to discuss your requirements.
Group Rates: Training at your Venue - All prices Include VAT
| GROUP SIZE | GROUP RATES |
| --- | --- |
| 8 people   | £392   |
| 12 people   | £456    |
Discounts available for multiple bookings